When the rain ceases to fall, these extraordinary plants continue to flourish. They can endure drought conditions while adding a breathtaking palette of red hues to your garden landscape.
In this article, we will explore each of these 8 drought-tolerant plants with red flowers, shedding light on their unique characteristics, growing requirements, and the enchanting beauty they bring to any garden.
So, embrace a garden that defies the odds, where radiant red blossoms dance in the sunlight and nature's strength shines through.
Red Yucca(Hesperaloe parviflora)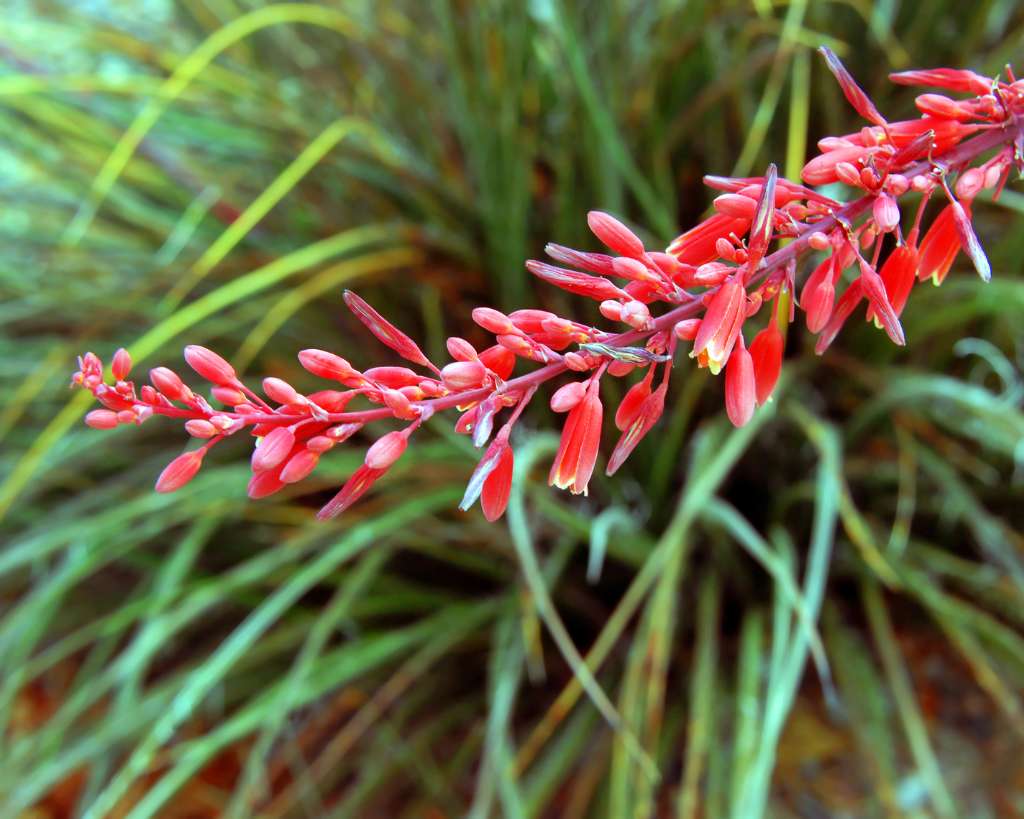 Red Yucca(Hesperaloe parviflora), also known as samandoque, hummingbird yucca, and coral yucca is a beautiful drought-tolerant perennial commonly found in the Southern part of the U.S.
During late spring and summer, tall flower spikes adorned with vibrant red tubular blossoms rise above the evergreen foliage, attracting hummingbirds and bees.
Red Yucca is a great choice for Desert Oasis Design, Mediterranean Gardens, Cottage Gardens, and Xeriscape Gardens. Companion plants complementing Red Yucca include Agave, Desert Marigold, Russian Sage, Lavender, and Rosemary.
The red flowers of Red Yucca create a nice contrast with yellow, pink, and white flowers.
Consider Brake lights, Straight Up Red, and Texas Red Yucca as one of the best varieties of Red Yucca that you can plant for a beautiful drought-tolerant garden.
USDA Zones: 5-11
Sunlight Requirements: Full Sun
Soil Requirements: well-draining, sandy or rocky soils
Coneflower(Echinacea Sombrero)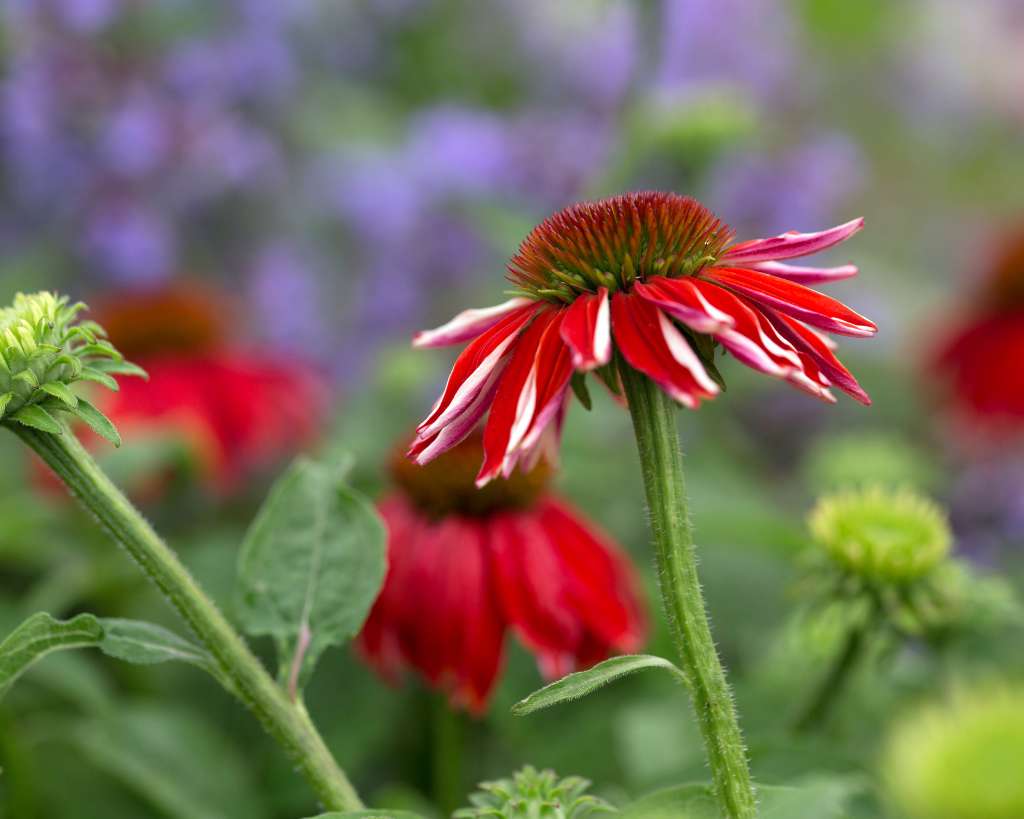 Echinacea Sombrero Salsa Red is a popular drought-tolerant perennial that produces softly fragrant, fiery orange-red flowers measuring 3 inches across.
With sturdy, upright stems and a compact habit, this early bloomer provides a vibrant floral display from early to late summer, sometimes even sporadically blooming until frost.
It attracts butterflies, hummingbirds, and other pollinators while being deer-resistant. Beyond its captivating beauty, this perennial is celebrated for its medicinal properties and immune-boosting qualities.
Combine Red Coneflower with plants having blue or purple colored blooms, such as Salvia or Agastache, for a color contrast design. Coneflowers combine really well with the soft, gray-green foliage of dusty miller.
Some beautiful varieties of Red Coneflower that you may consider for planting are Ruby Star, Tomato Soup, Red Knee High, and Hot Papaya.
USDA Zones: 3-9
Sunlight Requirements: Full Sun
Soil Requirements: well-draining, loamy, sandy, or clay soils
Salvia(salvia splendens)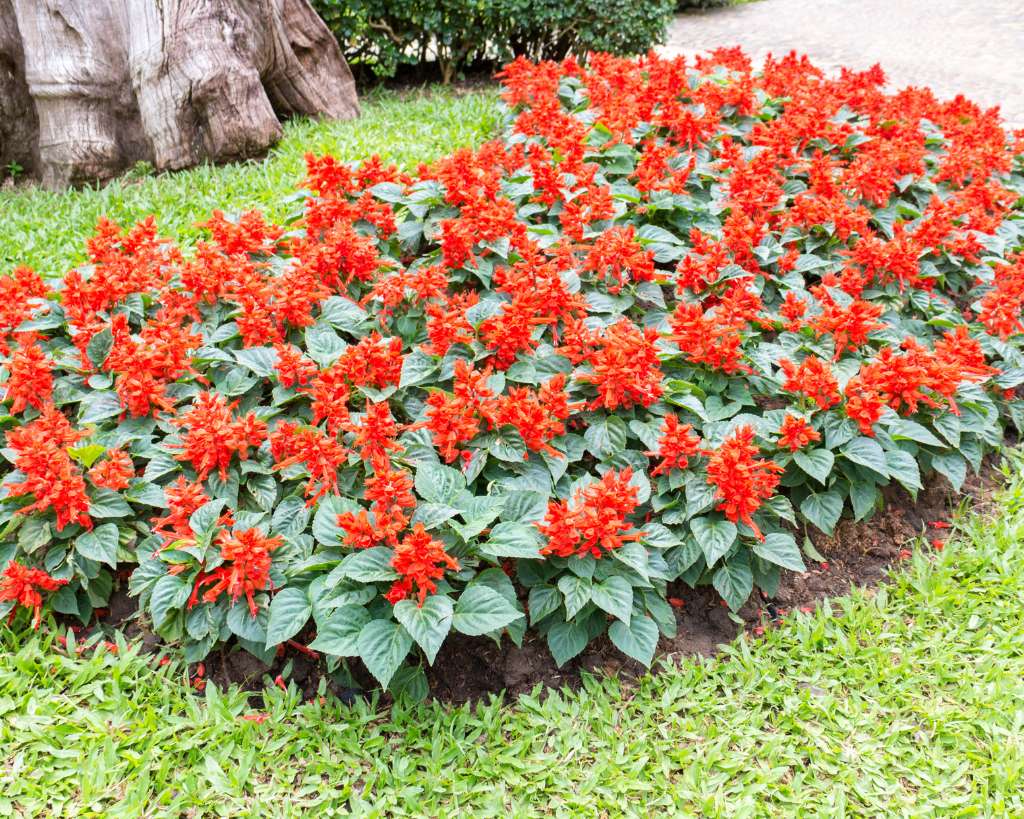 Red Salvia is a beautiful drought-tolerant perennial whose vibrant red-colored blooms are loved by gardeners.
Originating from Brazil, this striking plant can be used in beds, containers, or edging plants; this unique plant will surely add a vibrant touch to your garden throughout the summer and early fall seasons.
Planted in mid-spring, it quickly flourishes, reaching heights of 18 to 30 inches at maturity. Its heart-shaped, dark green foliage emit a delightful fragrance that deters pesky mammals like deer and rabbits, making it a resilient choice.
Red Salvia pairs well with other drought-resistant plants, such as yellow marigolds or purple petunias, to create a visually striking display.  It can also be planted in containers, butterfly, and cottage gardens.
Hot Lips, Red Velvet, Lady in Red, and Salsa Red are some of the best varieties of red Salvia you can grow in your garden.
USDA Zones: 9-11
Sunlight Requirements: Full Sun
Soil Requirements: well-draining, loamy, sandy, or clay soils
Lantana(Lantana camara)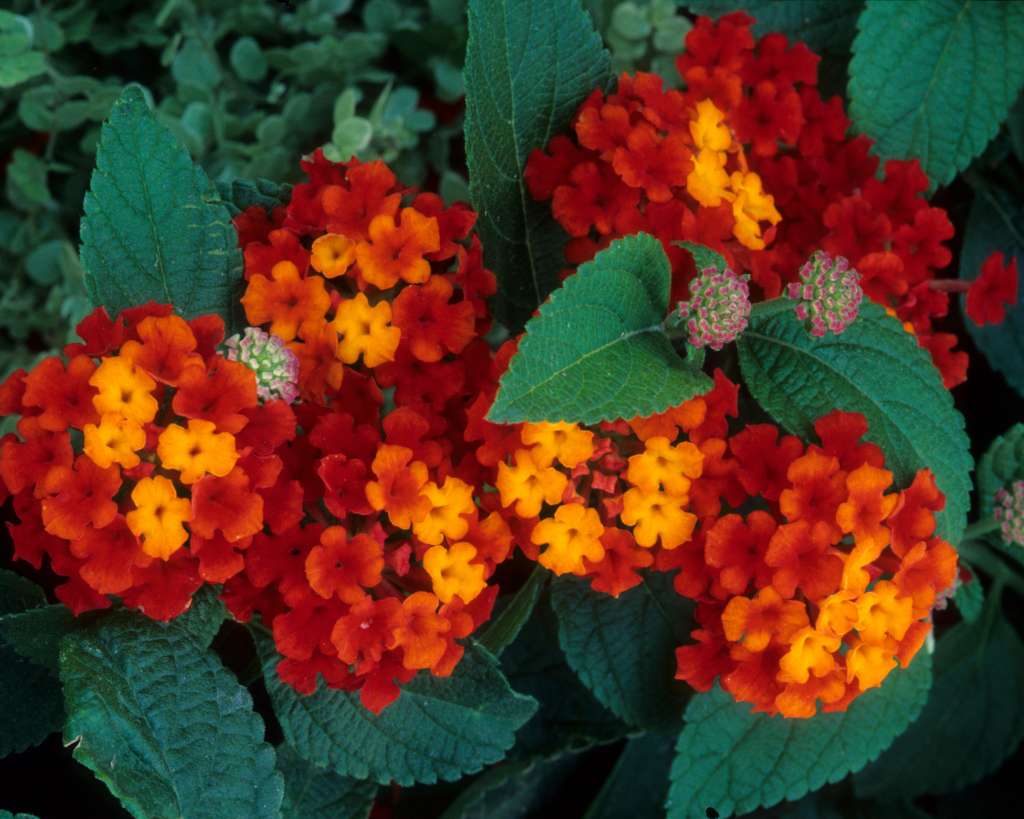 You can consider Lantana as one of the best drought-tolerant plants with red flowers that grows best in dry conditions. Its dense clusters of vibrant red flowers create a breathtaking display that will catch the eye.
Lantana's growth habits make it suitable for different garden purposes. It can be cultivated as a woody shrub, groundcover, houseplant, or hanging baskets. It has hundreds of varieties that boast yellow, orange, pink, and purple flowers.
Pollinators love the nectar-rich blooms of Lantana. Deer despise its taste. You can combine it with other drought tolerant plants such as Agave, Yucca, Yarrow, and Sedum for a water-wise xeriscape garden.
Lantana varieties such as Cherry Sunrise, Red Spread, Radiation, and New Gold can be chosen for a beautiful landscape garden.
USDA Zones: 8-11
Sunlight Requirements: Full Sun to Partial Shade
Soil Requirements: well-draining, loamy, sandy, or clay soils
Daylily Hemerocallis
Daylily boasts of flowers that are not only heat and drought tolerant but are attractive and visually appealing.
The blooms, each lasting only a day, present an array of red shades, ranging from deep scarlet to fiery crimson, captivating onlookers with their vibrant hues.
With over 60,000 registered cultivars available, daylilies can be used in various garden settings, including shrub borders, perennial beds, and ground covers on slopes. Daylily plants grow exceptionally well in full sun and dry soil.
Combine Daylily with other drought-tolerant plants to create beautiful landscape designs. For example, the tall flower stalks of daylilies can create an interesting height variation when paired with the low-growing Lamb's Ear.
The combination of the vertical flower spikes and the silvery foliage adds visual interest to the garden.
There are plenty of ideas that you can get inspired by. But you must choose the right varieties to get the best out of daylilies. You can consider these varieties of daylilies, such as Stella de Oro, Red Volunteer, Frans Hals, Chicago Apache, and Ruby Spider.
USDA Zones: 3-9
Sunlight Requirements: Full Sun
Soil Requirements: well-draining
Vinca Minor (Common periwinkle)
Vinca is a tough plant with beautiful red flowers whose blooms and foliage resemble impatiens. With its glossy emerald foliage and mounding habit, vinca brings a lush and vibrant touch to borders, containers, and even hanging baskets.
The vibrant-colored vinca plants also boast white, pink, and mauve-colored blooms. It can handle long spells of hot and dry weather. Additionally, it is loved by pollinators and hated by rabbits.
Vinca can be planted with trailing plants like Sweet Potato Vine or Creeping Jenny for a cascading effect. Add ornamental grasses such as Blue Fescue or Mexican Feather Grass for textural contrast. 
Cora Red, 'Pacifica Burgundy Halo, Titan Red, and Soiree Kawaii Red are some of the varieties of vinca you can choose for your garden.
USDA Zones: 3-9
Sunlight Requirements: Full Sun
Soil Requirements: well-draining
Portulaca(Portulaca oleracea)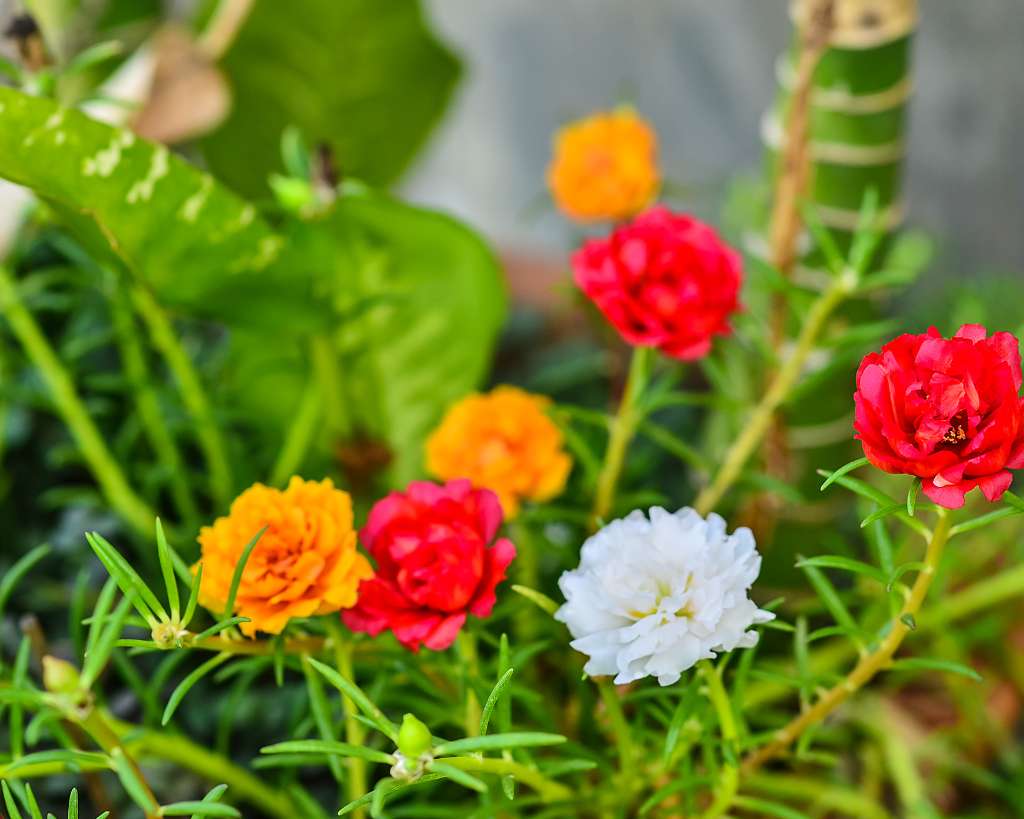 If you want to add succulents to your garden design, including attractive red flowers, consider portulaca. This low-growing annual plant has a papery texture and vibrant colors, making portulaca a true visual delight.
The vibrant red blooms, borne on slender stems, dazzle with their radiant hues and delicate petals. These eye-catching flowers open during the day and close at night, adding a touch of fascination to the garden.
Portulaca is ideal for rock gardens, slopes, or containers where its cascading stems can spill over and add a vibrant touch. Pollinators love gathering around their flowers, which is great for overall garden care. Deer usually only like it for some extreme conditions.
Combine portulaca with low-growing succulents like Stonecrop, Hens-and-Chicks, and Ice Plant to create an eye-catching rock garden. Pair portulaca with classic blooms like Shasta Daisies, Coreopsis, and Lavender to design a beautiful cottage garden.
Cupcake Red, Sundial Red, Double Red, and Hot Shots Red are some of the best varieties with red flowers that you can choose for your next garden project.
USDA Zones: 8-11
Sunlight Requirements: Full Sun
Soil Requirements: well-draining
Scarlet Sage (Salvia coccinea)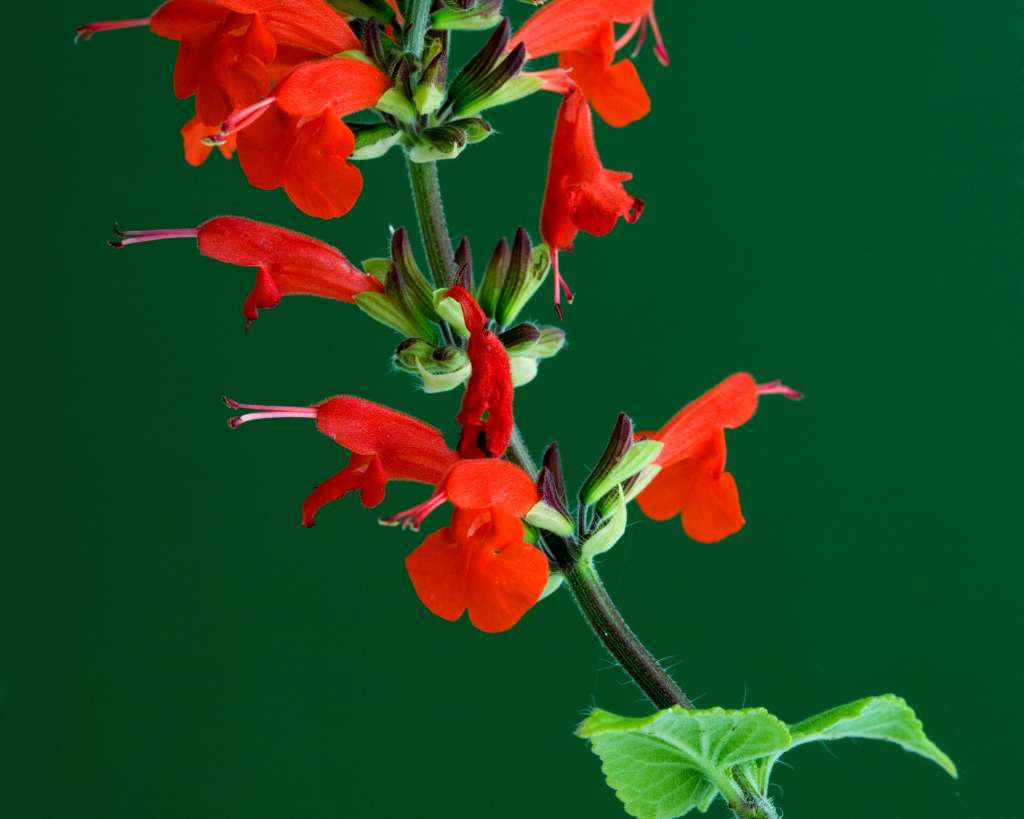 This Mexican native has vibrant red-colored blooms that grow from mid-summer to fall. It is a tender perennial that is typically grown as an annual.
The plant is easy to grow, requires minimal water, relatively pest and disease free, and attracts butterflies while being deer resistant.
It is a part of the genus Salvia, and sometimes it gets confused with another species known as S. splendens. It can thrive in both dry and moist conditions and is drought-tolerant once established.
You can create a Mediterranean-inspired design for companion planting with scarlet sage by combining Scarlet Sage with drought-tolerant companions like Lavender, Rosemary, and Blanket Flower.
More options include creating a rock garden by pairing it with succulents like Sedum and Hens-and-Chicks.
Lady in Red, Coral Nymph, Forest Fire, Sizzler Red, and Summer Jewel Red are some top recommended cultivars of scarlet sage.
USDA Zones: 7-11
Sunlight Requirements: Full Sun to Partial Shade
Soil Requirements: well-drained soil
Bonus Drought-Tolerant Plants With Red Flowers
Here's a list of 10 more Drought-Tolerant plants with red flowers that you can choose from according to your preferences:
Hens and Chicks (Sempervivum spp.)
Blanket Flower (Gaillardia spp.)
Kangaroo Paw (Anigozanthos spp.)
Red Hot Poker (Kniphofia spp.)
Black-eyed Susan (Rudbeckia hirta)
Yarrow (Achillea spp.)
Agastache (Agastache spp.)
Penstemon (Penstemon spp.)
Scarlet Beebalm (Monarda didyma)